Add a header to begin generating the table of contents
With data becoming increasingly available and accessible, data visualisation has become crucial in ensuring that complex data relationships and insights are communicated in a way that is easily understood.  
Two of the most popular data visualisation tools in the market are Tableau and Power BI.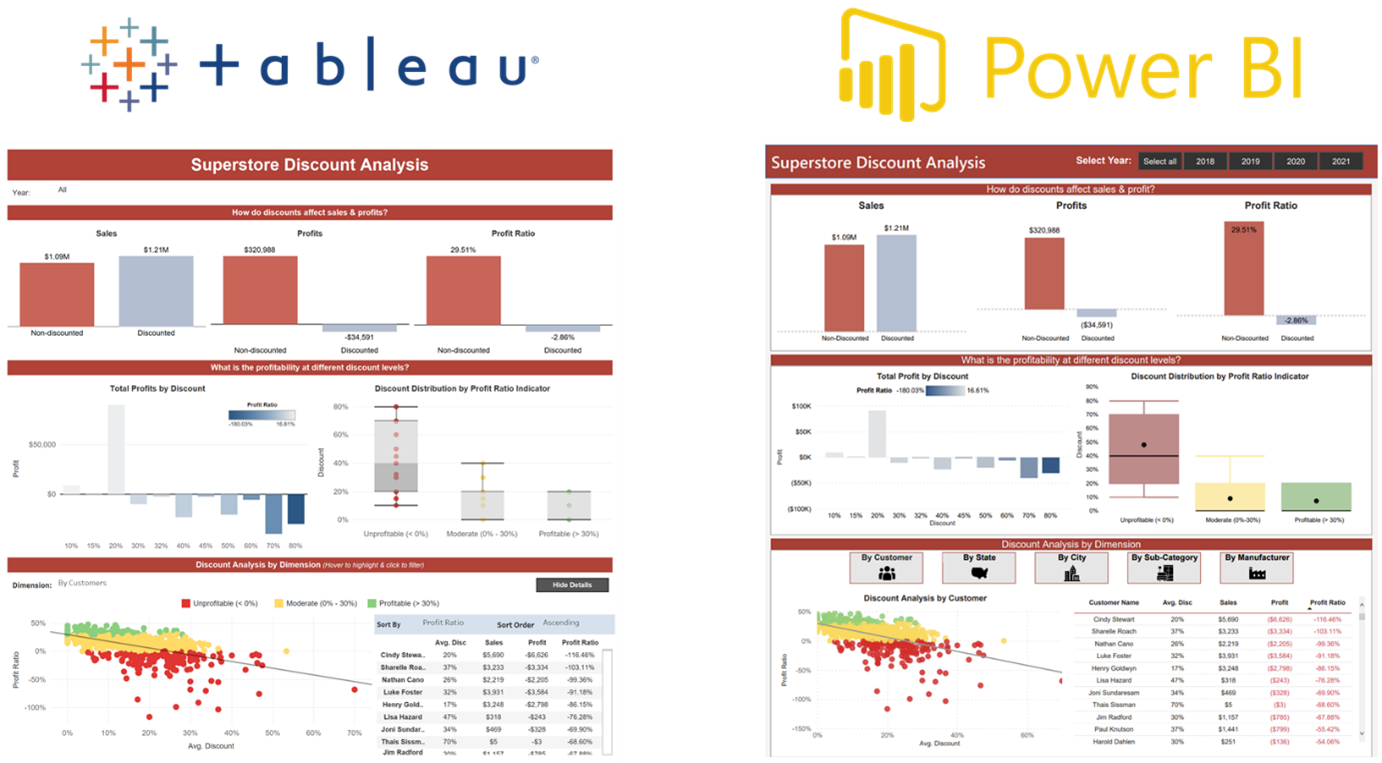 Above is the same 'Superstore Discount Analysis' dashboard replicated in both Tableau and Power BI. Both tools allow organisations to create a variety of similar visualisations to explore data. This includes bar charts, box and whisker plots, scatter plots and many others.  
At first glance, the two dashboards may look identical. However, a closer look will reveal some differences in design, including how the parameters and filters are selected. Similarly, on a more technical level, there are also key differences that organisations should be aware of when considering which tool to choose. 
In this blog post, we will put Tableau and Power BI head-to-head, to compare how they differ in a typical data visualisation process.  
As leaders, both Tableau and Power BI have a solid understanding of their key product offerings and are committed in delivering business value for its users. According to Gartner's report, Tableau shines due to its user-centric approach and integration with the Salesforce ecosystem. On the other hand, Power BI strongly integrates with Microsoft products. Finally, in a rapidly changing market, both tools also have robust roadmaps allowing it to constantly innovate to meet the evolving needs of its users. 
In most organisations, data is stored in a variety of ways and in different platforms, be it databases or in CSV files. Both Tableau and Power BI support connecting to a huge number of data sources, including Microsoft Excel spreadsheets, comma-separated values files and databases.  
On the other hand, there are also some data sources that can't be connected to directly on either tool. For example, at the moment, Tableau does not support Adobe Analytics connections directly while Power BI does not support connecting to Google Ads directly. As such, it is important to choose the right tool that supports the right sources. 
ETL, which stands for extract, transform and load, is the process of extracting data from different sources, transforming it into the right format and then loading the data in order to visualise it. Both Tableau and Power BI offer ETL tools.  
For Tableau (with a creator licence), users with limited technical experience can perform ETL tasks quickly using a stand-alone tool called the Tableau Prep Builder. Tableau Prep Builder presents ETL processes visually in a flow chart intuitively with  drag and drop functionality. 
In Power BI, ETL tasks can be done directly in the desktop application itself using M language in Power Query. A priority is placed on displaying the data front and centre and the Applied Step pane shows the ETL processes applied to the dataset in a chronological order. 
While some may prefer Power BI due to its flexibility, others prefer the Tableau Prep Builder for its intuitive visual layout, which is as visual as Tableau itself. Ultimately, in most cases, both tools are able to perform the same ETL processes. 
Another feature that analysts look out for when selecting the right data visualisation tool is the ability to create calculations using existing data in the data source. This is especially important if the underlying data does not include all required fields to answer a specific question. Both Tableau and Power BI can create calculations.  
In Tableau, calculated fields are used to create basic calculations, level of detail expression (LOD) and table calculations. Once created, the calculated field is then added to the existing fields in the data source. 
In Power BI, calculations written in DAX can be created using calculated columns or measures. Calculated columns are added as an additional column for each row of data, while calculated measures are used for aggregating expressions based on multiple rows. 
In terms of skills required to create complex calculations, since both tools use slightly different languages and terminologies, it is up to the user's preference on which tool is the better choice. While some specific calculations can be more easily created in one tool over another, in most cases, both platforms provide users with the ability and enough flexibility to obtain the result they want. 
To compare the data visualisation features of both tools, we will create a simple visualisation on both Tableau and Power BI. We will be using the Superstore dataset, which is provided as a sample data source in Tableau. 
Before going further, it is worth noting that both Tableau and Power BI provide drag and drop features which makes the creation of visualisations easy for even the newest user. The key difference is that in Tableau, users select the data fields first before choosing a visualisation to suit. In Power BI, users select the desired type of visualisation first before dragging and dropping the fields onto it. 
Above, we created a simple horizontal bar chart which shows the Sales by Category and Sub-Category. As seen in the Tableau example, Power BI does not allow us to show two fields on the vertical axis.  
Instead, by adding both Category and Sub-Category into the Axis pane, Power BI automatically created a hierarchy that allows us to drill up and down to view the Sales by Category or by Sub-Category separately. For a fair comparison, we will remove Category from both visualisations. 
Next, we will be looking at the tooltip functionality of both tools. Both Tableau and Power BI automatically added tooltips to the visualisation, providing information about the Sub-Category and total Sales of each Sub-Category. It is also possible to add additional information into the tooltip, simply by dragging fields to the marks card in Tableau or into the Tooltip pane in Power BI.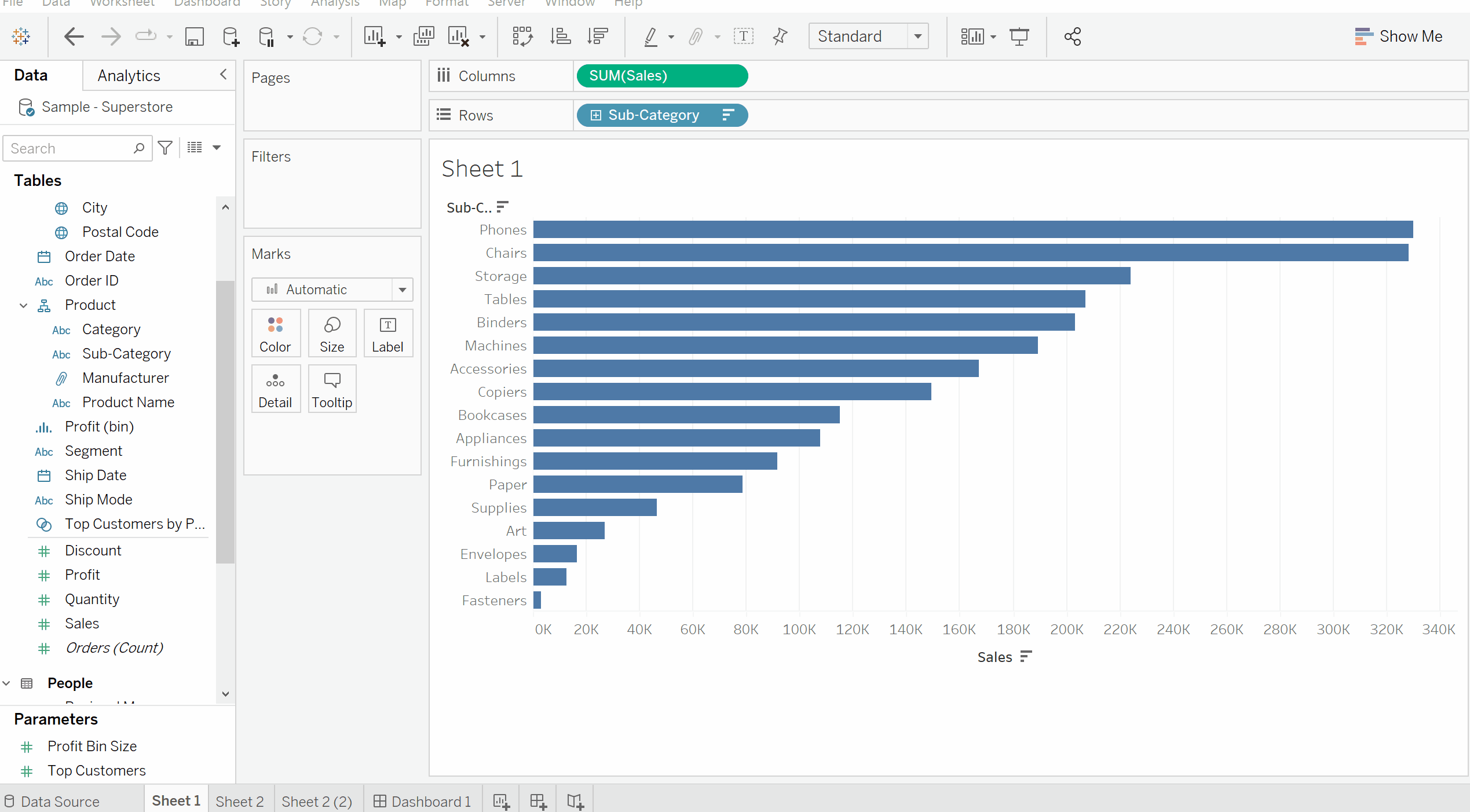 From the example, we can see that tooltips in Tableau are much more flexible than in Power BI. By clicking on the tooltip button, users can customise it by adding in text, changing font type and sizes, and even inserting a whole additional chart. Note, inserting a chart into the tooltip is also possible in Power BI, but this replaces the existing tooltip.  
Lastly, another important feature that analysts consider in a data visualisation tool is the ability to compare two metrics together, for example Sales and Profits. Building onto what we have, we can easily compare the Sales and Profits metrics on Tableau by using the dual axis function, which layers the two axes on top of each other. Here, we can see that Tableau offers a vast range of customisation choices, including changing the colour, size, and labels of each bar.
On Power BI, comparing Sales and Profits can also be done by simply dragging the Profit field into the Values pane. Immediately, we see the difference between both tools. Power BI does not stack the bars on top of each other. There is also a more limited range of customisations. For example, while we can change the colour for both bars, it is not possible to conditionally colour format the Profit field like we did in the Tableau example.  
One work around to this would be to use a combo chart instead. In Power BI, a combo chart is a single visualization that combines a line chart and a column chart. By moving the Sales field to the Line values, the option to conditionally format the Profit bar is now available.  
Overall, the topic of how aesthetically pleasing a visualisation is can become very subjective and is usually based on individual preferences. From the small example, we can see that both tools deliver the same core features, but in a slightly different way. Power BI offers more of a 'cookie-cutter' like experience, where users can create visualisations from a set of visuals. Tableau on the other hand offers much more flexibility and customisability.  
When comparing visualisations found in Tableau's Viz of the Day and Power BI's Data Stories Gallery, we can similarly see that while both tools are able to create quality visualisations, Tableau's visualisations allow for more flexibility and creativity while Power BI's visualisation tend to be more modular in design. 
For analyst that are looking for ways to take their data visualisations to the next level, both Tableau and Power BI offer ways to extend their functionality.  
In Tableau, users can access close to a hundred of Extensions that add unique features to dashboards or directly integrate third party applications. This includes the Sankey Diagram, Process Analysis and Network Analysis extensions built by Billigence. 
Additionally, from the extension gallery, users can also use Partner-built Connectors to connect to additional data sources, apart from the list of supported connectors as mentioned previously.  
Finally, in Tableau, pre-built dashboards called Accelerators, allow users to quickly perform analysis using their own data for use cases tailored to specific departments, industries, or even cloud-based systems such as Salesforce, ServiceNow ITSM, LinkedIn Sales Navigator, Marketo, and Oracle Eloqua. 
In Power BI, users can access a library of custom visuals providing valuable insights. This allows Power BI to close the gap when it comes to certain visualisations that are in popular demand but are not present in the core app offering. 
For example, while box-and-whisker plots come included in Tableau, you won't find them in Power BI by default. To access desired visualisation, Power BI users need to click on the "Get More Visuals" option in the Visualisation pane, choosing the one they're after. 
In addition, many more visuals created by Microsoft and Microsoft partners, which are validated by the AppSource validation team, are also available via the Microsoft Appsource. The option to develop custom PowerBI visuals are also available.
Finally, when encountering a roadblock or facing a particular data challenge, quality support makes for a night and day difference. 
Tableau's community of over 220,000 active users on Tableau Public, sharing their experience, tips & tricks, discussing and organising a variety of events (such as Iron Viz, Makeover Mondays, etc.) is among the biggest tech communities in the world. 
Power BI's community is also improving, growing and offering more content to its users than ever before. 
Try an Interactive Tableau Dashboard
In conclusion, we have explored many capabilities of Tableau and Power BI, and have also highlighted some of the differences between the two platforms. As shown, both are able to transform and communicate data in their own unique and meaningful way. 
While the areas discussed within this blog post would play an important role in the final decision, there are other variables that need to be considered. This includes the  ability of the business to leverage platform benefits, budget and how well it fits the organisation's existing technology stack.  
If you are still unclear on whether to go with Tableau or Power BI, one way to make a more informed decision would be to test out the features on your own, by taking advantage of the free or trial versions offered by both tools.  
Alternatively, Billigence provides Business Intelligence Consulting services and Data & Analytics upskilling. Please submit the  form below if you would like to hear about how we can assist in choosing the right data visualisation tool for your business.