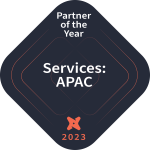 Recognised for service implementation and delivering transformative data solutions.
Sydney, 31 October 2023 – Billigence, global business intelligence consultancy, announced that it has been named dbt Lab's APAC Services Partner of the Year. This award recognises the recipient as being an expert in dbt Cloud and an active participant within the community.
Billigence was recognised for its achievements in implementing dbt Cloud, enabling joint customers to unlock the full potential of their data assets. By leveraging dbt Cloud's advanced data transformation features, including version control, orchestration, and auto-documented datasets, Billigence has consistently empowered businesses to glean actionable insights, streamline operations and elevate overall performance.
The prestigious award underscores Billigence's commitment to data excellence and innovation, further solidifying its position as a trusted partner in the APAC region. With this recognition, Billigence continues to set the standard for data transformation services, fostering strong client relationships through excellence in execution.
"Receiving this accolade from dbt Labs underscores the strength of our partnership in pioneering data transformation. Together, we stand dedicated to delivering game-changing data solutions and nurturing lasting client bonds," says Jana Kapr, CEO Billigence Group.
"The technical excellence of the Billigence team and their active collaboration with our field team are second to none in the ANZ region. We appreciate the Billigence commitment to the success of our mutual customers, and we're looking forward to seeing what we can do together in the coming year," says Amy Deora, VP, Partnerships and Alliances, at dbt Labs.
About Billigence
Billigence is a global data and analytics consultancy transforming the way organisations work with data. They leverage cutting-edge technologies to design, tailor and implement advanced business intelligence solutions across a wide range of applications including, cloud data architecture and deployments, data governance, data science and ML ops, data visualisation and data analytics. Billigence has a proven track record of consistently producing exemplary results, taking the guesswork out of decision making and helping their clients to gain a competitive edge, no matter what industry they're in.
Learn more at Billigence.com.
###