BI Consultancy
Enable data-driven decision making
OUR CONSULTANTS ARE EXPERTS IN
BUSINESS INTELLIGENCE
What we provide is more than just service; we deliver top-notch results made possible by our combination of skills and products tailored to your needs.
BI Consultant
As companies have different structures and processes in place, we understand that there is different technical and business expertise required for different challenges. We recruit and can also provide BI consultants that have the skills and experience that is suited to your specific business needs.
With a strong mix of technical expertise and business understanding, they possess the following skills:
Data preparation and blending skills
Data visualisation and dashboard design skills
Predictive Modelling
Deep SQL expertise
Data Modelling
Data Warehousing
UX design and web development
Data Governance
Billigence has the expertise to deliver data governance capabilities. Our consultants possess in-depth knowledge and expertise garnered from a range of leading industries and disciplines. We believe that the successful establishment of data governance 2.0 frameworks require both an expert team and mixture of software solutions.
Our consultants have the following skills:
Commercial experience with leading ASX & global companies
Solid experience within data governance, data quality, data privacy & data sharing
A flexible mindset and pragmatic approach to data management principles including master data management
Organisational Change Management expertise and proven ability to influence stakeholders in order to drive strategic business and technology outcomes
Strong communication, negotiation and facilitation skills
Unique expertise in technical implementations for governance software including Alteryx Connect and Collibra
And they can implement best-in class systems for the following key governance functions:
Data Catalogue
Business Glossary
Data Lineage
Policy Manager
Reference Data
Management
Report Catalogue
Tech BA
Our technical business analyst consultants have both strong technical backgrounds as well as the ability to communicate and engage with stakeholders. In the role of a Tech BA, it is very important to interpret business requirements and clearly relay and explain to developers and technical delivery teams. Alongside having great business skills, Billigence Technical Business Analysts have strong backgrounds in data and project delivery. Some of the key skills of our analysts include:
Experience running technical & business workshops
Experience dealing with multiple stakeholders at all levels
Excellent written & verbal communication skills
Broader understanding of BI processes and tools
Our consultants are trained and certified with our software partner tools, however, we can provide consultants with expertise in the software solutions utilised by your business.
Solution Architect
The solution architect is a senior role that centres around orchestrating company data systems. Some of the key skills of our Solution Architects include:
Understanding complex BI architecture
Create architecture and solution design
Producing support documentation
Producing solution design documents - documentation
Understanding data warehousing and database management
Excellent interpersonal skills - ability to negotiate, persuade & work with various teams/business units to resolving conflict and tension.
Excellent written & verbal communication skills to effectively communicate to senior stake holders.
Ability to work through large complex problems in a methodical manner.
Analysing software solutions and its best fit with BI architecture
Portfolio/Programme Manager
The Portfolio/Programme Manager manages the outcomes and has overall responsibility for a Programme or Portfolio of work. This will typically represent a number of Projects linked by a Technology grouping or Business domain. Some of the key responsibilities include:
Organising programme activities to support strategic direction and long-term goals.
Optimising delivery across the Portfolio and accountable for quality.
To be an escalation point for Project delivery and having overall accountability for the Projects
Project Manager
The Project Manager is Responsible for the delivery of an individual project. This includes management of Schedule, Budget & Scope. They are additionally responsible for managing;
Project Quality
Risks
Issues
Resourcing
Status Reporting and Documentation
They must motivate and inspire the team. They are also responsible for providing the required Project information regularly to the Portfolio/Programme Manager.
Change Management
A change manager plays a key role in ensuring projects/change initiatives meet objectives on time and on budget by increasing business adoption and usage. This consultant focuses on the people side of change, including changes to business processes, systems and technology.
Certified Salesforce/Vlocity Developers
Our developers have agile development skills, with a proven track record of delivering enterprise CRM implementations. The skills of our developers are:
Providing technical plans to business teams
Developing complex CRM solutions and ensuring best practices are followed
Deep understanding of product, with the ability to implement changes necessary to the specific needs of the business
Understanding end-to-end CRM processes and integration to back-end platform
Testing and implementing applications
Designing and developing products in Visualforce, Apex, SalesForce1, D/HTML, CSS, JavaScript, and related technologies.
Data modelling, processes modelling tools
Junior BI Consultants
We have certified Junior Consultants that can help in managing data and visualisation tasks. Often paired with a more senior role, Juniors can present a valuable contribution for a more affordable rate. Our Junior Consultants have the following capabilities:
Data prep and Visualisation skills
Certified (Tableau and Alteryx)
Cloud Certified
Python Development
Predictive modelling
Customised Roles
If your business is in need of a specific data related role, please get in touch with our sales team to see how we can fulfil your business' needs.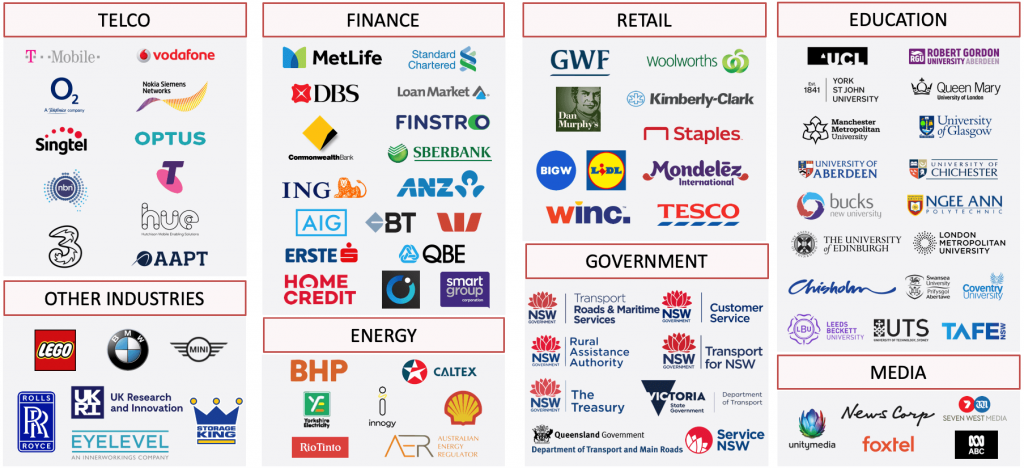 Billigence consultants have the experience and the ability to process, analyse, and articulate solutions to your problems. They are credible, personable and genuinely passionate about your business intelligence needs.
We have worked with clients from a large variety of different industries for more than a decade. Billigence consultants are qualified professionals that can guide your business' data evolution in your specific industry.
We are genuinely dedicated to providing market-leading solutions delivered by a talented team of experts to help our clients realise their full potential. That's why we partner with market leading technology providers.